Product Code: GB01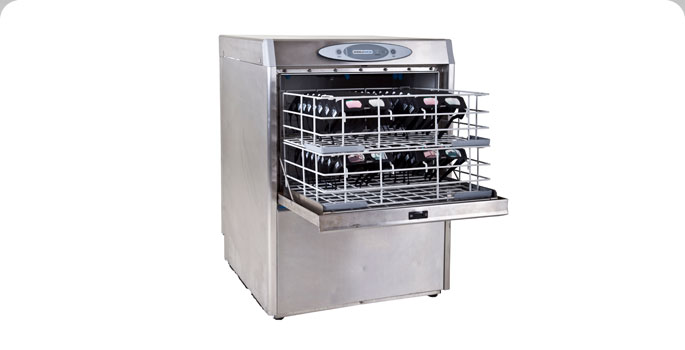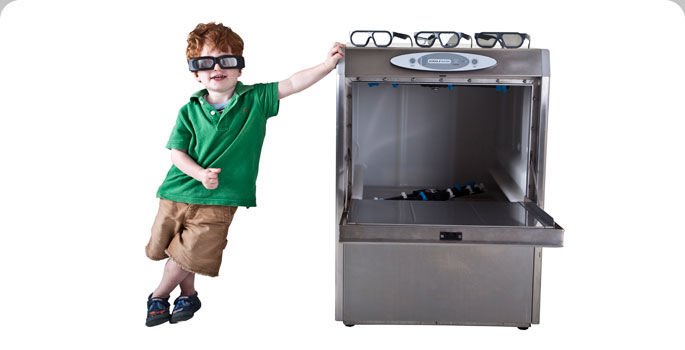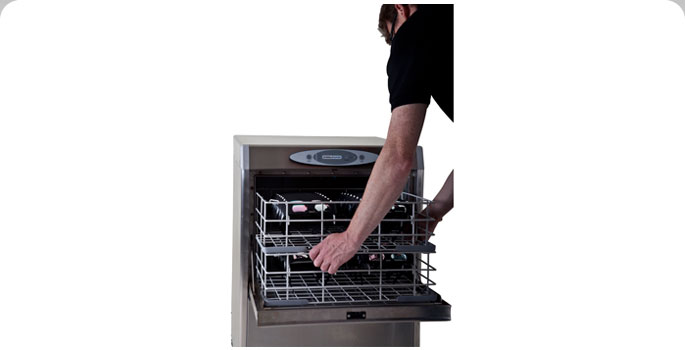 Fresh Water Wash System – No downturn in wash results
The initial fill of the machine is 3.5 Litres. Once this water has been used for the wash it is drained away then a further 3.5 Litre rinse is introduced. Once the rinse is completed the water is retained for the next wash. This wash system ensures a constant level of wash quality and hygiene.
Low Consumption – Eco Friendly
Because the machine only utilises a low water volume, it is very economical to run, less water, less energy to heat the water, less detergents and rinse aid.
Hygienic – No compromise
Once the operator has finished with the machine and they select the closedown programme, the machine washes itself out and is left completely empty so there is no water left in the wash tank or the header tank where the heating is completed. This is ideal especially if there is a long gap between 3D screenings.
Versatile Connection – Will suit almost every site
The machine can be connected to either cold water or hot water. It can be connected to 13amp, 25amp or 30amp single phase supplies and to water supplies with pressure as low as 0.5bar thanks to an internal rinse booster pump that provides a guaranteed rinse pressure, essential for excellent results.
Chemicals – Easy to source
The machine is supplied with internal detergent and rinse aid pumps and is set for standard dosing levels. We recommend the following products that can be sourced in most countries:
Johnson Diversey Suma Special L4 Detergent
Johnson Diversey Suma Rinse A5 Rinse Aid
These can be sourced through the following website:
http://www.johnsondiversey.com
Warranty – Well Managed
The machine is supplied with a 12 month parts warranty. If a part fails we will despatch direct to site with an express courier. The part will be supplied with fitting instructions and all the site needs to do is arrange for their maintenance man or a dishwashing engineer to fit the part. This is not very difficult. We don't expect parts to fail but they are machines and these things can happen.
Remote Monitoring System (RMS) - Keeps cost of ownership low
The machine is supplied with RMS as standard. This allows Gogglewash to monitor the machine and we will be aware of any failures or problems at the same time as it happens. If we are provided with suitable information, the monitoring system will automatically trigger an email to the operator's email address advising them of what action to take. We recommend a general email that the duty manager has access to i.e. dutymanager@..... The RMS also provides a complete audit trail of every cycle completed recording the temperatures that were achieved the dosing of the sanitising detergent and drying rinse agent, something that may be useful to the site should anyone or any authority question their hygiene levels. Click
here
for more information.
Different Wash programmes – Works with all Dolby 3D
We are re-programming the machine so that it can be set up for 2 different wash programmes:
Glass lensed glasses – standard set up
Plastic lensed Glasses
The machine is suitable for the XpanD glasses but only the previous version which are waterproof.
This is something that needs to be confirmed with order.
Easy Installation – Keeps costs down
The machine is easy to install. It is similar to a domestic dishwasher in that it needs suitable power, a water supply terminated with a ¾"BSP tap connector and a waste upstand. More detail of this is towards the end of the user manual that I have attached.
Water Conditioning – Works with low cost options
Gogglewash recommends that a water softener is connected to every machine, however, if the water quality is very soft in a particular area then a water softener is not required. The water softener is connected to the machine to prevent the machine from being attacked by lime scale. If the glasses have cloudy spots, then the water softener needs to be re-generated a manual task the staff on site can undertake. The optimum in water conditioning is a reverse osmosis unit, which again we would recommend the site sources locally.
CLICK HERE FOR TECHNICAL AND INSTALLATION INFORMATION